Danish in North America
First the US and later Canada were the primary goals for the massive emigration from Denmark from the middle of the 19th century and until after World War II. Approximately 140.000 Danes migrated to the US in the time period 1900–1930. In general, the Danish immigrants assimilated quickly and thoroughly to the American society. With rather few exceptions, they did not settle in Danish 'colonies' but settled for good jobs and land wherever it was necessary. Accordingly, they did well socioeconomically, but the Danish language was lost fairly quickly. The language loss was supported by the fact that unmarried young people, and particularly men, dominated the Danish migration to North America before World War II quantitively. This lead to exogamy, and, accordingly, to language shift.
If you are interested in reading more about the sociodemographic aspects of the Danish migration to North America, we recommend the work by Torben Grøngaard Jeppesen (2005, in English 2011), and – for a short overview in Danish – Karoline Kühl's paper from 2015: "Det er easy at tale engelsk også": Amerikadansk i 1960'erne og 1970'erne. NyS 47, 39-64 (available here www.nys.dk).
Recordings
The Danish Voices-project has since turned recordings of 230 Danish Americans and Danish Canadians into a searchable database. The recordings of speakers born between 1870 and 1941 come, representing very different biographies, partly come from Danish settlements in the US and Canada, e.g.  Lake Norden, Lake Preston, Arlington, Viborg (South Dakota), Blair (Nebraska), Solvang (Californien) and New Denmark (New Brunswick, Canada). Read more about our North American data and who collected them.
Section of Badger, South Dakota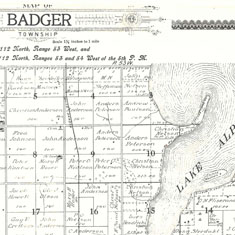 Source: Standard Atlas of Kingsbury County, South Dakota. Including a plat book of the Villages, Cities and Townships of the County. Compiled and published by Georg A. Ogle & Co. Chicago, 1909, p. 25